RF Explorer Record/Play License
The RF Explorer Spectrum Analyzer PLUS models can optionally Record and Replay sweeps using internal device memory. This advanced feature enables standalone recording of activity on the field, it can be replayed in the same device any number of times, as well as stored in a computer as a data file for computer display and sharing. For specific details plesae check the user manual specific section "Record / Play MENU"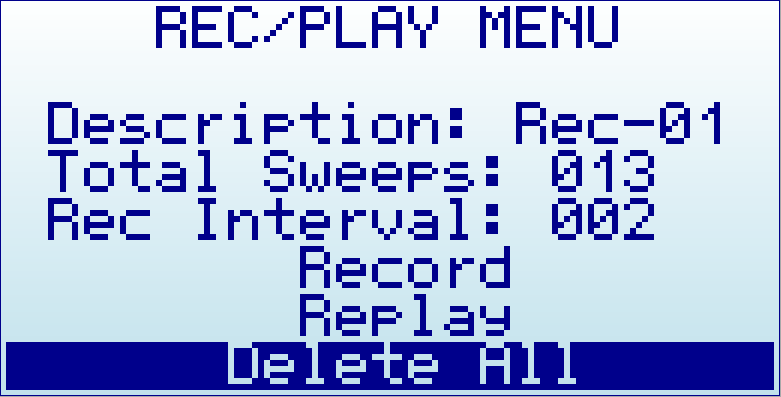 Downloading recorded sessions from the device to the computer requires RF Explorer Touch version 1.6 or newer, or RF Explorer for Windows version 2.3 or newer. For more details visit Record Manager help.
This feature requires firmware v3.18 or newer and a device license activation as described below in Registration Process.
This feature is compatible with all PLUS and PLUS SLIM products, if you have any question please contact us before purchase.
Ordering online and License Activation process
Check detailed steps at RF Explorer Device License instructions page

By purchasing this license you agree on the following terms:
End User License Agreement
All sales are final, refund is only possible before activating the license in the Computer and the Spectrum Analyzer. Once the license is activated there is no option for refund or cancellation.
License can be activated from a Windows 7/8/10 computer only
The license can be activated only from the same computer provided by Computer Code ID and for a single RF Explorer Spectrum Analyzer device. Once the license is activated, can be used with any computer by the same RF Explorer Spectrum Analyzer device.
License is permanent and locked to a specific RF Explorer Spectrum Analyzer device, it does not require any extra regular payment and is compatible with any future firmware upgrade. The device firmware must not be downgraded to earlier versions of firmware than v3.16 as otherwise the license may get invalidated.
Each license is unique and cannot be shared or moved to a different RF Explorer device.
Support is available through www.rf-explorer.com/support page. We are entitled to provide quality support on any question you may have or issue you may find.
For more than 5 licenses you can apply for a 10% discount, contact us before purchase.