Using Presets in RF Explorer
Overview
Presets are predefined configuration names stored in the device to easily recall commonly used setups.
Device models supported:
RF Explorer Spectrum Analyzers Combo (with Expansion board) support presets since firmware version v1.26. This include ISM Combo, 3G Combo, 6G Combo and Wifi Combo.
RF Explorer Spectrum Analyzer Plus and ProAudio model since initial firmware v3.00 support embedded presets but firmware v3.06 is required to connect with RF Explorer Preset Manager.
Firmware upgrade is available in the download page.
For specific help on using presets in the handheld device, please check user manual.
This tool is available for Windows computers (Windows XP SP3 and higher, including latest Windows 10), Linux and Mac computers. Please see specific sections below.
---

RF Explorer Preset Manager for Windows
The RF Explorer Preset Manager tool can be used in Connected and Disconnected mode. Connected mode is required to update the RF Explorer device, but Disconnected mode is useful to manually define presets that can be later uploaded to one or more RF Explorer devices.
For companies with multiple RF Explorer devices, this tool is the easiest way to propagate the same settings to all them.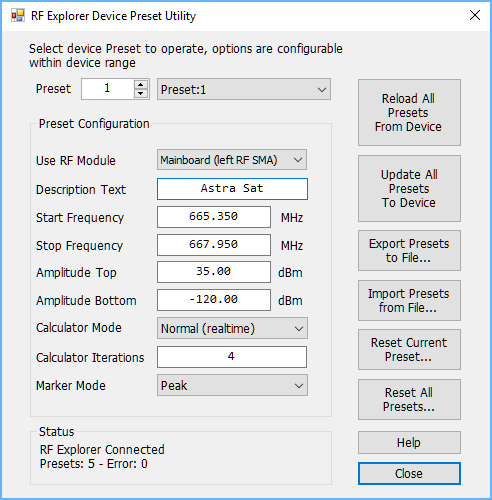 Quick Startup guide
Connect your RF Explorer device to USB and keep it in standard Spectrum Analyzer mode. Only one device can be connected to USB, otherwise the tool will not be able to communicate with RF Explorer.
Open the RF Explorer Preset Manager tool, it will automatically connect to RF Explorer and indicate so in the "Status" section.
Press button

[Reload All Presets From Device]

to get all defined presets from your RF Explorer device (if any) into the Computer.
Do any manual modification or create new presets, as required
When all changes are completed, click button

[Update All Presets To Device]

to get RF Explorer device update with all changes from Computer
Close the RF Explorer Preset Manager tool
Detailed description
The tool include tooltips help text on each button and function, keep the mouse a couple of seconds on top of any application area to get instant description.
Connection
The tool will scan and try to connect to any RF Explorer device when it starts.
If there is no RF Explorer connected, it will work in Disconnected mode. This mode is useful to define presets or modify existing ones, stored in local Computer. To connect to an actual device, the application must be closed and reopened again.
If a RF Explorer Spectrum Analyzer device is connected to the USB port, the application will automatically connect upon starting. It will not connect if more than one RF Explorer device is connected to USB, for instance if a Spectrum Analyzer and a Signal Generator are both connected.
The tool uses 500Kbps speed mode only. If connection fails, please make sure to check the CONFIG MENU baudrate selected in the RF Explorer device, should be set to 500Kbps in the device for it to work.
Define a new preset
To define a new preset, select the preset index (1-30 for Standard units, and 1-100 for Plus units). Modify Start/Stop frequency, define a Description Text, etc.
Description Text is limited to standard ASCII 7 bits characters. Other characters may display correctly in the computer, but will not work correctly when loaded in the device. For best results, limit text to A-Z, a-z, 0-9, and simple symbols like ., -, +, _, etc. Do not use accentuated or 8 bits ASCII characters.
All values are persisted in local computer XML file. If application is closed, presets will be remembered when the application starts again.
Important: a preset is considered <defined> with a useful value whenever the Start Frequency is different than zero. Presets with Start Frequency set to zero are considered empty.
Valid preset values for frequency are limited by the actual RF Explorer model the preset will be used into. For instance if the device is limited to 240-960 MHz range, defining values outside this range will be ignored as incompatible when uploading to the device. In devices with Mainboard and Expansion Board, make sure to select the right option before editing frequency ranges.
Modify a preset
To modify any preset with new values, edit the values the same way you do for defining a new preset.
Reset a preset
Select the preset to reset to zero and then click on [Reset Current Preset…] button
Reset all presets
To start with an empty, clean preset selection you can reset all at once using [Reset All Presets…] button
Reload presets from Device
If running in Connected mode, the tool can download all presets from the device into the computer frontend.
If values for a particular preset are different in the computer and the device, the one in the computer will be overwritten with the one from the device. When using the [Reload All Presets From Device], the device preset definition takes the priority.
Presets defined in the computer but undefined in the device will not be overwritten or changed.
Update device presets
If running in Connected mode, the tool can update all presets in the device using the current definition from the computer.
If values for a particular preset are different in the computer and the device, the one in the device will be overwritten with the one from the computer. When using the [Update All Presets To Device], the computer preset definition takes the priority.
For presets defined in the computer with ranges incompatible with the device, the preset will be ignored and not sent to the device.
Import / Export presets
Presets defined in a computer can be saved to and restored from Preset export files. These files allows to share preset definitions among teams or colleagues, can be sent by email or shared apps, and can also be used to replicate in different computers.
To export presets, use the [Export Presets to File…] and select a file name. This file can be shared, stored for backup, etc.
To import presets from a file into the current session, use the [Import Presets from File…]. The file will add any new preset to the computer session. To upload the imported presets into a device, use the [Update All Presets To Device] after import completes.
---

RF Explorer Preset Manager for Mac
Installing and using the Preset Manager in Mac is a simple task.
Install Instructions:
Install USB drivers and Mono as documented in this article
Download the RF Explorer Preset Manager from the download page
Run the software from the package, or better drag it to the dock or the Applications container
Make sure the software is Authorized for use in MacOS Sierra or newer versions: You may need to authorize the application explicitly in your system. To do so, go to Security & Privacy panel in System Preferences, then hit the Allow or Enable option.
---

RF Explorer Preset Manager for Linux
The specific version for Linux run with mono. It is tested and supported in Ubuntu 64bits v16.04 using Mono 4.x, it should work fine in any modern distro using a recent stable version of Mono.
Install Instructions:
Download and install Mono for your Linux distro from Mono project website
Add your linux user to the dialup group, otherwise may not be able to open the USB port. For instance this command will do it in Ubuntu/Debian:

sudo adduser <my_user> dialout

Download and copy RF Explorer Preset Manager for Linux executable, you can locate it anywhere in your computer.
Connect your RF Explorer spectrum analyzer to the USB port. Only Combo and Plus models are supported.
Run the tool with

mono RFEPresetManagerLinux.exe
Note: use regular Linux login, not root or superuser, otherwise configuration files will not be stored in the home folder correctly.