With so many different RF application fields, budget ranges and specific needs, it is an art to design the best possible match for everyone's needs with best quality and limited cost. We are delighted to offer a broad product range of tools, adjusted over more than 10 years of team dedicated R&D, careful listening to customer needs and feedback, and strong research on the latest technologies.
Listed below you can find our current offering for RF Explorer models, including Spectrum Analyzers, Signal Generators, Expansion and IoT Modules and accessories.
RF Explorer PLUS SLIM Spectrum Analyzers

Professional product line with highest performance and most advanced capabilities

6G COMBO+
50KHz - 6.1GHz
(up to 7.5GHz*)
6G WB+
15MHz - 6.1GHz
(up to 7.5GHz*)
4G COMBO+
50KHz - 4GHz
(up to 6.1GHz*)
ISM COMBO+
50KHz - 2.5GHz
WSUB1G+
50KHz - 960MHz
RFEM6GP
Expansion 6.1/7.5GHz
RFEM4GP
Expansion 4/5/6.1GHz
RFEM24GP
Expansion 2.5GHz
SLIM Holder

RF Explorer Standard Spectrum Analyzers

Entry level product line with high performance capabilities and incredible price/performance ratio

6G COMBO
15MHz - 6.1GHz
3G COMBO
15MHz - 2.7GHz
ISM COMBO
240MHz - 2.5GHz
2.4G
2.3GHz - 2.5GHz
WSUB1G
240MHz - 960MHz
RFEMWSUB3G
Expansion 2.7GHz
RFEMWSUB1G
Expansion 960MHz
RFEM24G
Expansion 2.5GHz
Holder Standard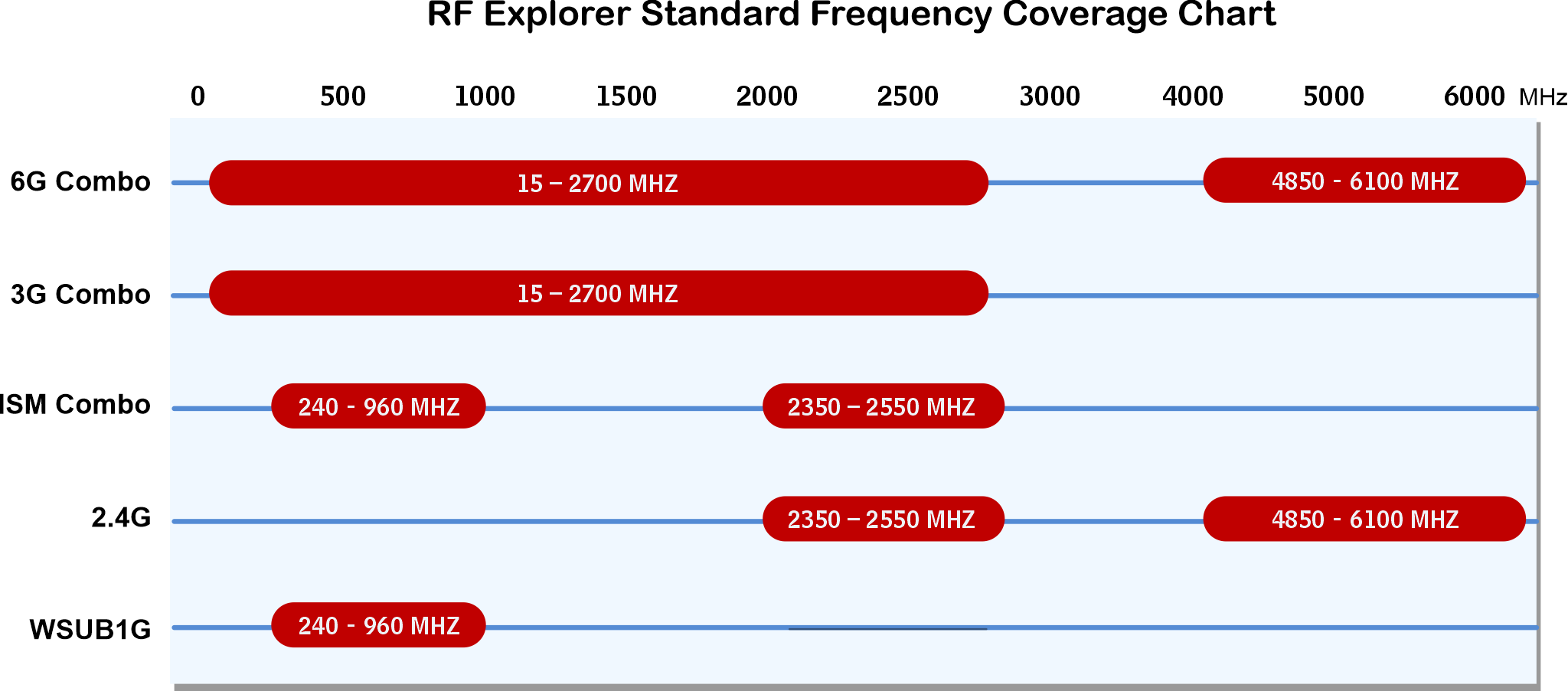 RF Explorer Signal Generators

Professional and entry level Generators to get all your needs covered

Generator COMBO
100KHz - 6GHz
RFE6GEN
24MHz - 6GHz
Generator Expansion
Expansion and Filtering
100KHz - 6GHz

RF Explorer IoT Spectrum Analyzers

Advanced modular design for your own custom remote IoT application

3G+ IoT Raspberry Pi
15MHz - 2.7GHz
3G+ IoT Arduino
15MHz - 2.7GHz
Raspberry Pi Touchscreen Kit
15MHz - 2.7GHz
MW5G IoT module
15MHz - 3/4/5GHz
MWSUB3G IoT module
15MHz - 2.7GHz
MW5G IoT Micro Analyzer
15MHz - 3/4/5GHz
Note: For more information on quote and technical details for MW5G and MWSUB3G modules please contact us
Special OEM Products

Vertical market designs for market leader Companies.
Contact us for a quote if you need a custom designed instrument for your specific market.

RFVenue ProAudio
15MHz - 2.7GHz
LATNEX
15MHz - 6GHz
WifiMetrix
2.4/5GHz WiFi & DFS
Comparison chart
Download comparison chart document in PDF here.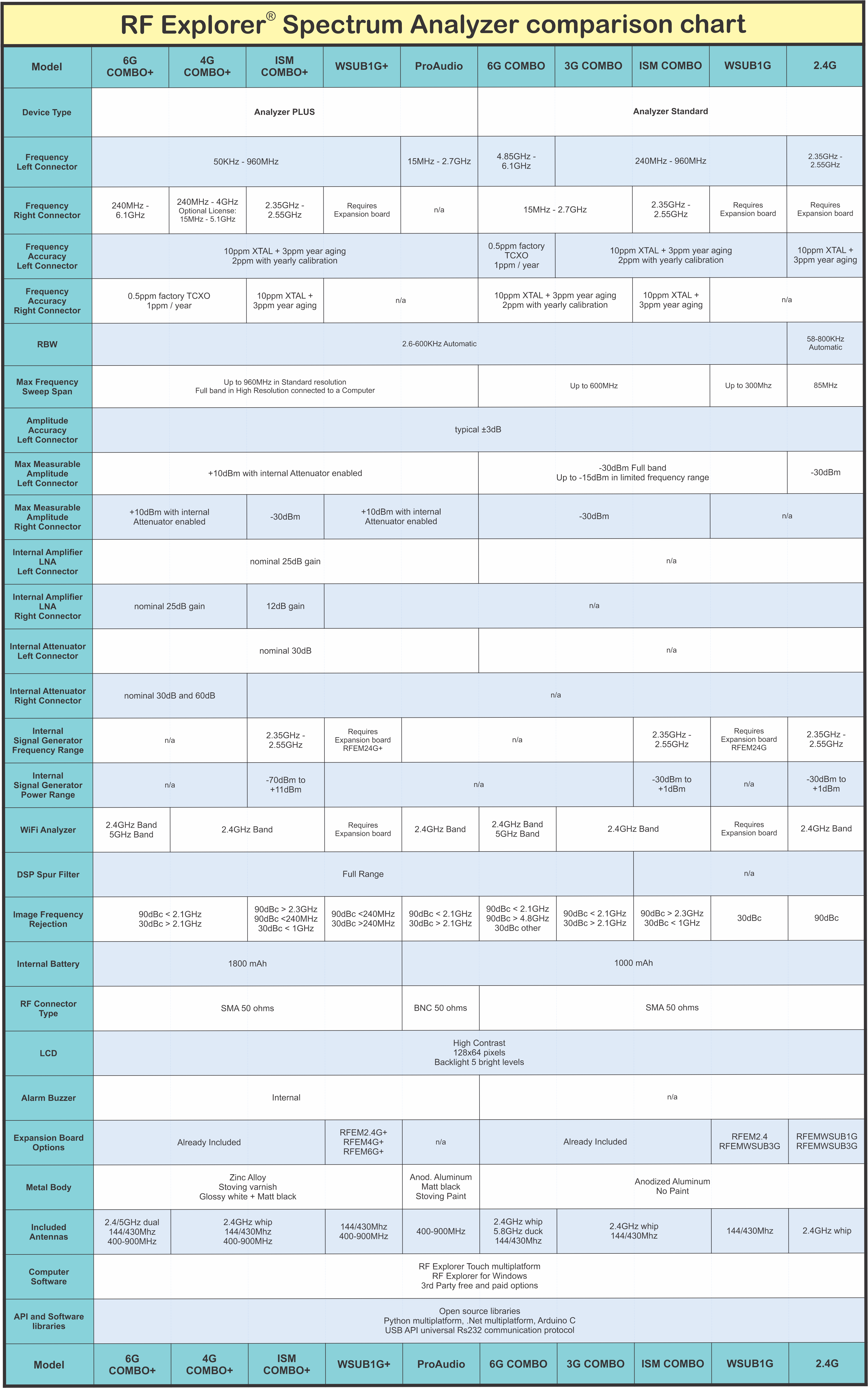 Compliance
All RF Explorer models are complaint with FCC as well as CE regulations.
All RF Explorer Wideband models have been certified under EN/IEC61236 and EN/IEC61000.
All RF Explorer models are RoHS compliant