RF Explorer Signal Generator Combo - Specifications

The RF Explorer Signal Generator Combo model enhance capabilities of baseline Signal Generator RFE6Gen model by extending power and frequency range, including efficient wideband harmonic filtering in a compact handheld device.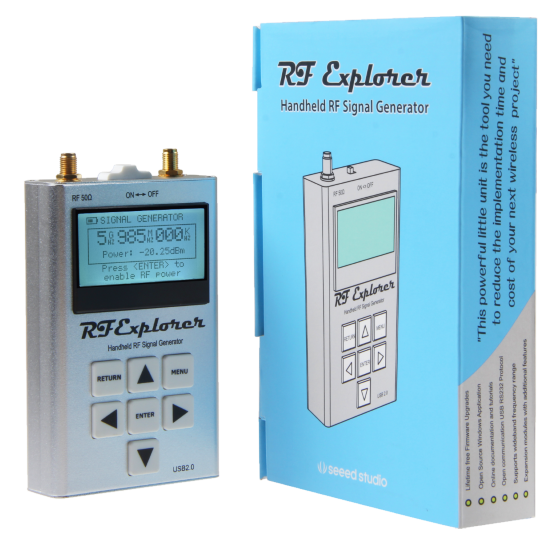 As a standalone unit, the Signal Generator Combo can generate CW and Sweep signals by selecting embedded menu options. When connected to a PC, it can be fully programmed with the RF Explorer for Windows software tool. Furthermore, the unit can work as a powerful Tracking Generator when used with RF Explorer Spectrum Analyzer connected to the same PC, offering full Scalar Network Analyzer (SNA) capabilities. The SNA feature allows full characterization of filters, amplifiers and any 2-port RF device.
An expansion board is available to easily upgrade baseline Signal Generator RFE6GEN into a Combo model.
Important: After assembling of the RF Explorer Signal Generator Expansion board into a RF Explorer Signal Generator RFE6GEN baseline mainboard, the device becomes fully compatible with a RF Explorer Signal Generator Combo. Same specifications will apply for harmonics filtering, frequency accuracy and RF capabilities as a Combo unit assembled and calibrated at factory. However, due to differences between mainboard electronics, the RF power level accuracy cannot be guaranteed and may not comply with RF Explorer Signal Generator Combo specifications. We offer calibration services to fully adjust to specifications, please use contact form to request more information.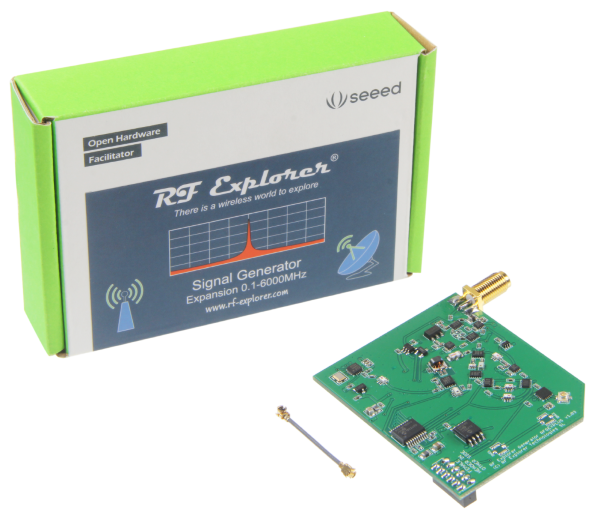 For full specifications please use Specifications and Datasheet document.
A summary of main performance parameters are listed in the table below.
Parameter

Value

Frequency range

100KHz to 6GHz

Frequency step/resolution

1Khz

Frequency stability

100KHz to 250MHz: ±5ppm
or ±800Hz
250MHz to 6GHz: ±0.5ppm

Frequency accuracy
(internal reference)

100KHz to 250MHz: ±10ppm
or ±800Hz
250MHz to 6GHz: ±1ppm

Output power range

Calibrated: -40 to +10dBm
Uncalibrated: -60 to +15dBm

Output power resolution

0.25dB

Output power accuracy

Typical ±1.5dB

Output power stability

Typical ±0.5dB

Output amplitude settling time

500uS

Output protection

25VDC

Harmonics

Typical -40dBc

Spurious

Typical less than
-52dBc

Phase Noise

Typical less than -125dBc/Hz
on 1MHz at 1GHz

Frequency Sweep settling

< 5ms

Amplitude Sweep settling

< 500uS

Sweep hops range

unlimited

Functional modes

CW
Frequency Sweep
Amplitude Sweep
Tracking SNA

Operating temperature

5-35C

Connector type

SMA 50 ohms

Display

Graphics LCD 128x64 pixels

Backlight

5 levels

Weight

205g

Size

113x70x25 mm

Programmable

USB generic API
Python API
.NET API

Software

Windows PC

Certification

CE/FCC/RoHS/MSDS