RF Explorer 3G+ IoT - Internet of Things modules available
We are happy to introduce the new RF Explorer 3G+ IoT modules, with direct support for Arduino and Raspberry Pi platforms.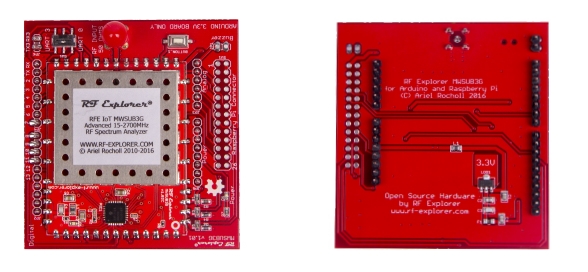 These modules are cost-effective platforms to develop your own customized Spectrum Analyzer, Power Detector, RF activity alarm, RF sniffer, RF QA test bench, etc.
Programmability and network capabilities of the hosting platform enables remote control and diagnosis scenarios, fully automated RF alarm systems, advanced assistance for unattended detection requirements such as those of radio operators, cell towers and HAM stations. These modules are also small and low weight so you can add it onboard on any FPV plane or drone and use to scan the flight area to detect interferers, or measure antenna response.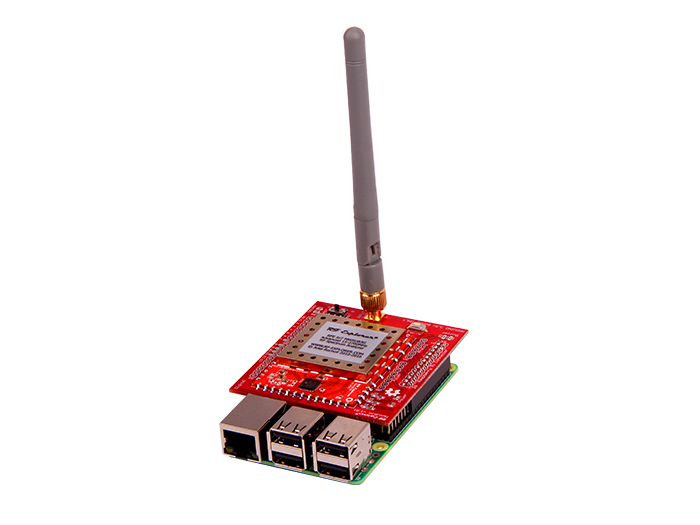 RF Explorer 3G+ IoT boards are delivered in two configuration modes:
Raspberry Pi
Arduino and compatible boards (3.0 – 3.3V only)
We recommend Raspberry Pi mode for advanced usage and more powerful libraries, and Arduino for simpler, non-Linux software libraries related development.
For added flexibility, these two boards can be easily re-converted between modes by soldering a required connector:
Raspberry Pi Hat can be converted to Arduino Shield by soldering standard 0.1" male headers to the PCB
Arduino Shield can be converted to Raspberry Pi Hat by soldering a 26x2 0.1" female header to the PCB
Designed in this way, it is easy to reconvert the board to a different hosting platform with no extra cost if you have different needs down the road.
Furthermore, other platforms such as BeagleBoard, Chip, Chipkit, Teensy all them can easily control a RF Explorer 3G+ IoT by manually connecting it to standard UART port.
Where to buy RF Explorer IoT Modules
Currently available at SeeedStudio:
Most of our distributors will eventually have them available.
RF Explorer 3G+ IoT Specifications
Includes the advanced 3G+ MWSUB3G RF Explorer module
Frequency band coverage: 15-2700 MHz
Standard SMA 50 ohms connector
Advanced selectable internal input stage: Normal, LNA, 30dB Attenuator
Amplitude resolution: 0.5dBm
Dynamic range: -130dBm to +10dBm
Absolute Max input power: +30dBm
Average noise floor level (typical with LNA enabled): -120dBm
Frequency stability and accuracy (typical): +-10ppm
Amplitude stability and accuracy (typical): +-3dBm
All modules are factory calibrated
Frequency resolution: 1Khz
Resolution bandwidth (RBW): automatic 3KHz to 600KHz
Protected with resettable fuse
Power consumption: 100-500mW
For more details, please visit www.rf-explorer.com/IoT