RF Explorer Signal Generator (RFE6GEN)

We are happy to welcome a new member to the RF Explorer family.
The RF Explorer Signal Generator is a powerful, wideband fully programmable RF signal generator. It is the perfect companion for Spectrum Analyzer product line.
As a standalone unit, RFE6Gen can generate CW and Sweep signals by selecting embedded menu options. When connected to a PC, it can be fully programmed with the RF Explorer for Windows software tool. Furthermore, the unit can work as a powerful Tracking Generator when used with RF Explorer Spectrum Analyzer connected to the same PC, offering full Scalar Network Analyzer (SNA) capabilities. The SNA feature allows full characterization of filters, amplifiers and any 2-port RF device.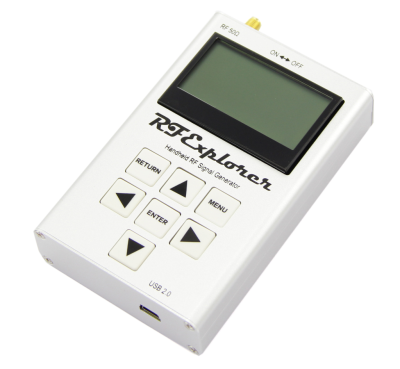 With excellent frequency and amplitude handling, it brings a truly affordable high performance, small form factor signal generator to the RF market. Download full datasheet specification here.
For purchasing RFE6GEN, visit the SeeedStudio website or contact our worldwide distributor channel.