Introducing the multipurpose RF Explorer Power Limiter + DC block + 6dB attenuator
The RF Explorer Power Limiter is a custom, 3-in-1 device designed from the ground up to be the perfect protection against strong RF fields.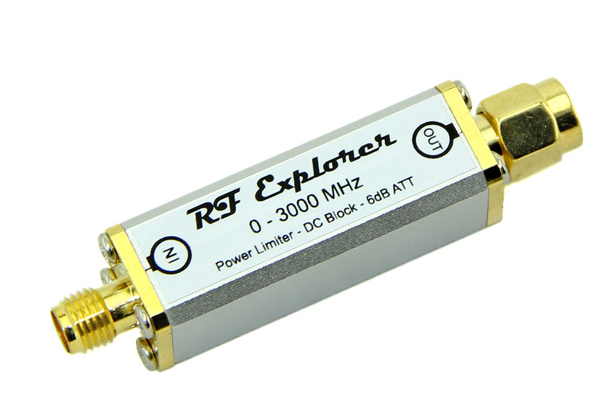 The RF Explorer Power Limiter is assembled in a rugged aluminum case and it is very compact when compared to other market offerings. Not only that, it also includes internal DC block and 6dB attenuator which makes it very versatile yet really small device for all it offers.

Why you would need a power limiter? As you can see on this note all RF Explorer models have input signal power ranges beyond which can be damaged. For most models (such as WSUB1G, ISM Combo or 2.4G), the limit is on +5dBm, some others are ok up to +10dBm (such as 433M-915M) but only WSUB3G (3G Combo right SMA connector) is protected up to +30dBm.


The new RF Explorer Power Limiter will allow any RF Explorer model to be protected with external signals up to +30dBm (1 Watt), so you get the same level of protection as in the WSUB3G. Furthermore, the power limiter includes additional functionality inside that will otherwise require external devices increasing cost and size, it is a true 3-in-1 device:

• Power limiter: protection up to +30dBm, for any frequency range between DC-3000Mhz
• DC block: You can connect any external source with DC voltage up to 16V with no risk of damaging your RF Explorer or interfering in your measurement.
• Attenuator: Includes an internal 6dB attenuator to help you extend the range of power signal measurements. 6dB attenuation means a ¼ of the input power is received by the unit. To compensate for this extra attenuation you should indicate OffsetDB: +006 in the ATTENUATOR MENU of your RF Explorer.
Feature
Robust, small and low weight custom aluminum case
3-in-1 device with Power Limiter, DC Block and Attenuator
Easy to connect and disconnect when required
Wide broadband frequency application
Directional 1 Watt rating
Suitable for all RF Explorer models, not required for WSUB3G.
Specification
Frequency range: DC ~ 3.0 GHz
DC block: +16V DC
Input Power rating: 1 Watt (+30dBm)
Output power max: +4 dBm.
Attenuation: 6 dB
Impedance (Nominal): 50Ω
V.S.W.R (Max): 1.25 : 1
Connector type: SMA male – female
Connector: Brass / Gold plating
Body: Aluminum
The RF Explorer Power Limiter is available at SeeedStudio for $45 - that is about five times lower price you would have to pay for features like these in the general market. RF Explorer distributors will have it available soon, contact your local distributor for more details.
As we put significant effort an expense on this design, we will reuse this aluminum cage for additional accessories, including filters for popular R/C, FPV, ISM and HAM frequencies.