RF Explorer Device - License Voucher
RF Explorer Spectrum Analyzer PLUS models offer optional features enabled by license. Each licenses is permanent, locked to the specific device where it is enabled.
These licenses can be purchased online and requires a Windows computer with internet connection for activation.
Option features enabled by license currently available are listed in the following table
This page describe the process to register your license if you already got a License Voucher from a Distributor, sent to you by email. If you do not have a License Voucher, you can order a license online in this page link.
Follow below instructions ONLY if you have a Voucher.
Voucher Registration process
Upgrade your unit to latest firmware v3.25 or later following www.rf-explorer.com/upgrade instructions
Download and run the RF Explorer System Check utility from www.rf-explorer.com/check - all software downloaded from our site is free from malware and virus
(1) Run the System Check utility and introduce your email, make sure the email is valid. It will be used to send you registration license code.
(2) click on [Register Device License] button in the System Check tool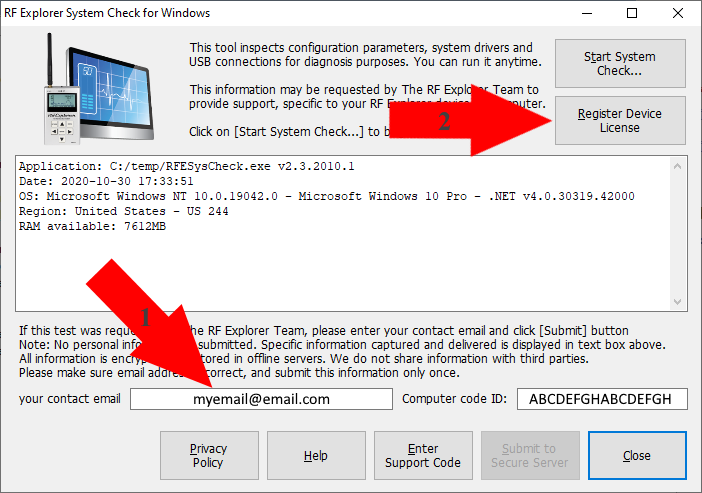 (3) Check ON option "I have a prepaid License Voucher"
(4) Enter the Voucher code you received from your Distributor. Note each Voucher can be used once.
(5) Click on [Submit Voucher] button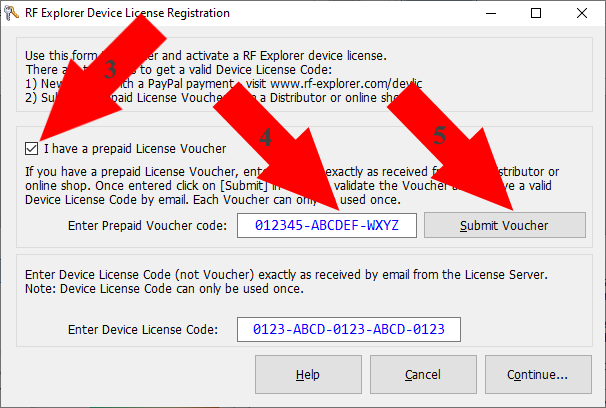 After 5 minutes you will receive an email from our secure server with subject "RF Explorer Device License Code".
(6) Enter the License code received by email (20 characters) into the specific field
(7) Click on button [Continue...] and follow the steps, your Spectrum Analyzer will be required to connect at some point, make sure to have it handy and powered up already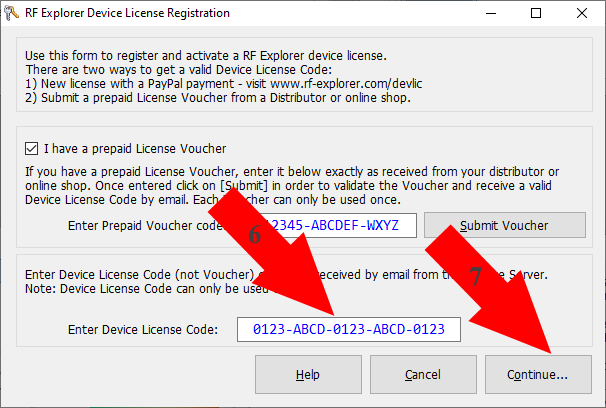 The registration process require an Internet connection, it will fail if not connection is available. You can retry if registration process failed.
The full process may take 1-2 minutes maximum. Once the registration process is completed, a message from System Check tool will confirm success. This License code will be enabled and not available for additional activations. Each license code can be used once.
By purchasing this license you agree on the following terms:
End User License Agreement
All sales are final, refund is only possible before activating the license in the Computer and the Spectrum Analyzer device. Once the license is activated there is no option for refund or cancellation.
License can be activated from a Windows 7/8/10 computer only with reliable internet connection.
The license can be activated only from the same computer provided by Computer Code ID and for a single RF Explorer Spectrum Analyzer device. Once the license is activated, can be used with any computer by the same RF Explorer Spectrum Analyzer device.
License is permanent and locked to a specific RF Explorer Spectrum Analyzer device, it does not require any extra regular payment and is compatible with any future firmware upgrade. The device firmware must not be downgraded to earlier versions of firmware than v3.16 as otherwise the license may get invalidated.
Each license is unique and cannot be shared or moved to a different RF Explorer device.
Support is available through www.rf-explorer.com/support page. We are entitled to provide quality support on any question you may have or issue you may find.
For more than 5 licenses you can apply for a 10% discount, contact us before purchase.