RF Explorer Power Limiter
The RF Explorer Power Limiter is a custom device designed from scratch to be the perfect protection against strong RF fields for your sensitive RF instrument.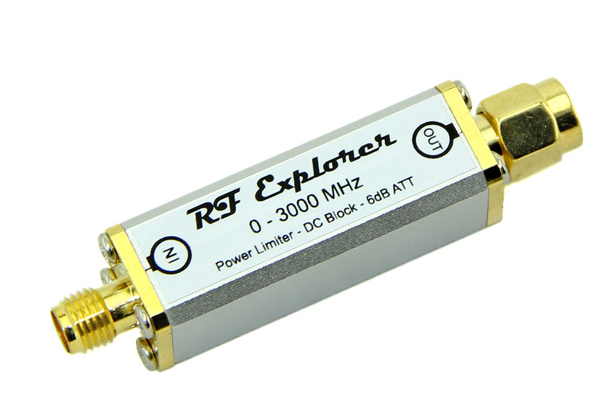 The RF Explorer Power Limiter will allow any RF Explorer model to be protected with external signals up to +30dBm (1 Watt). Furthermore, the power limiter includes additional functionality inside that will otherwise require external devices increasing cost and size:
Power limiter: protection up to +30dBm, for any frequency range between DC-3000Mhz
DC block: You can connect any external DC source up to 16V with no risk of damaging your RF Explorer or interfering in your measurement.
Attenuator: Includes an internal 6dB attenuator to help you extend the range of power signal measurements. 6dB attenuation means only 1/4 of the input power is received by the unit. To compensate for this extra attenuation you should indicate OffsetDB:+006 in the ATTENUATOR MENU of your RF Explorer.

The Power Limiter is assembled in a rugged aluminum case and it is very compact when compared to other market offerings, not to mention it includes internal DC block and attenuator which makes it a really small device for what it offers. It is a recommended add-on to all users who may expose their unit to strong external fields.
Feature
Robust, small and low weight custom aluminum case
3-in-1 device with Power Limiter, DC Block and Attenuator
Easy to connect and disconnect when required
Wide broadband frequency application
Directional 1 Watt rating
Suitable for all RF Explorer models, not required in PLUS models if internal attenuator is enabled
Specification
Frequency range: DC ~ 3.0 GHz
DC block: +16V DC
Input Power rating: 1 Watt (+30dBm)
Output power max: +4 dBm.
Attenuation: 6 dB
Impedance (Nominal): 50Ω;
V.S.W.R (Max): 1.25 : 1
Connector type: SMA male - female
Connector: Brass / Gold plating
Body: Aluminum